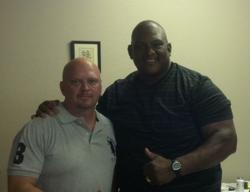 Company President David Gergen with NFL great, Derek Kennard of the Dallas Cowboys, Arizona Cardinals and New Orleans Saints.  Gergen's Orthodontic Lab with NFL football greats Derek Kennard and Nate Newton will be  doing a public awareness seminar in Dallas Texas for sleep apnea awareness.  Heavy NFL players twice as likely to die before 50, Gergen's Orthodontic the manufacture of dental devises that can save lives.
Derek Kennard, is a retired Pro bowl NFL player who has first hand experience with OSA. He was unable to tolerate his CPAP, and is currently treating his OSA with an oral sleep appliance. While attending a football camp with David Gergen, a nationally respected orthodontic lab tech/owner,  Kennard heard about the devices made by Gergen's Orthodontics Lab, and has effectively used them to manage his OSA ever since.
Kennard knows all to well the tragic implications of untreated OSA. His brother Donald passed away in his sleep on November 15, 2009 at the age of 46 from complications associated with Sleep Apnea.  Donald Kennard was a diagnosed sleep apnea sufferer who just could not tolerate wearing his CPAP. Derek was diagnosed with the same untreated condition when he met David Gergen.
David Gergen, the owner of Gergens Orthodontics Lab, gives back to his Arizona community by coaching football at both the Pop Warner and high school levels, holding state championship titles as a player and a coach. Father to nine children ranging in age from 3 to 27 years, some of whom are following in his footsteps both in his athleticism and his career in dentistry, David Gergen is passionate about helping athletes like himself and makes sure children get the care they need to perform.
NFL linemen Derek Kennard and Nate Newton have teamed up with David Gergen and Dallas Sleep Apnea Dentist Dr. Harry Sugg DDS to provide information about Obstructive Sleep Apnea  at the Renaissance Dallas Hotel on April 26 at 2:00 and 5:30 PM. They will be discussing Sleep Apnea and its affect on all aspects of life. Athletic, Academic and Professional performance require a good night's sleep.  Over 60% of NFL linemen suffer from Obstructive Sleep Apnea. Sleep Apnea is a medical condition that is often associated with Diabetes,  heart disease and obesity.