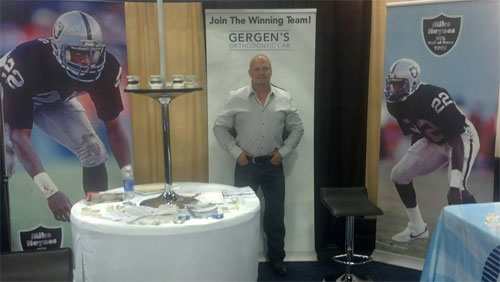 Free in-home sleep tests and treatments are being offered to Minneapolis residents at no cost, as part of a national sleep apnea awareness campaign. In conjunction, a local awareness discussion, with former NFL players, will be held on June 24th, at the Hilton Double Tree Hotel, located at 7800 Normandale Blvd, in Bloomington, MN.
In total 50 free in-home sleep tests will be donated to the community. In addition 20 free sleep apnea oral appliances donated by David Gergen, President of Gergen's Orthodontic Laboratory, will be offered to residents in the Minneapolis area. The community donation by the two companies is approximately $50,000. Gergen and all former NFL players involved with the event, will be available for pre-scheduled appearances and interviews a week prior to the event. Also available for pre-scheduled interviews, is Dr. Rod Willey, DDS, D'ACSDD from the Illinois Institute of Dental Sleep Medicine. In addition, free in-home sleep tests and the opportunity for sleep apnea treatment (through oral appliance therapy) will be available to Minneapolis media and production staff members.
The June 24th awareness discussion (at the Hilton Double Tree) will start at 5:00 p.m. and is free to the public. A question and answer session will be open to the press prior to the event, beginning at 4:00 p.m. "Many people are not aware of the health dangers that stem from sleep apnea and it isn't a priority to most individuals. We are trying to spread awareness and help the community at the same time. I am trying to save as many lives as possible," Gergen said.
The Pro Player Health Alliance is the organization responsible for teaming the former NFL players with sleep apnea advocates across the country. The organization was formed by David Gergen President of Gergen's Orthodontic Laboratory, and Rani Ben-David, President of Sleep Group Solutions, with the help of former NFL hall of famer Mike Haynes, in efforts to help identify and treat sleep apnea in former NFL players. In addition, the group is hoping to spread the awareness of sleep apnea and alternative treatment options.
Minneapolis Residents must call to pre-register for the opportunity to receive a free in-home sleep test. Former Vikings greats, Carl Eller and Stu Voigt along with Mike Haynes and former Dallas Cowboy Derek Kennard will be signing autographs after the discussion. To qualify for an in-home sleep test, participants must register online at SleepTest.com/minneapolis or call 1-855-MY-SLEEP (855-697-5337) prior to the event.