(PRWEB) June 20, 2012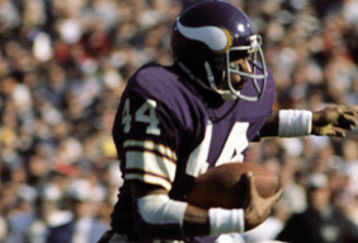 Former Minneapolis Vikings players Matt Blair, Greg Coleman, Carl Eller, Chuck Foreman, Bob Lurtsema, Stu Voigt, along with other NFL greats—Mike Haynes, Derrick Kennard, and Lee Nystrom, President of NFL Alumni Minneapolis chapter are coming together to tackle sleep apnea at an upcoming awareness event on June 24-25, 2012 hosted by Gergen's Orthodontic Lab.
The Minneapolis sleep apnea awareness event is part of a series of a nation-wide campaign titled "Tackling Sleep Apnea." The event will take place at the Hilton Double Tree Hotel located at 7800 Normandale Blvd., in Minneapolis, MN and will begin at 5 p.m. The event is free to the public. Former NFL players will share their stories and experiences with sleep apnea. The players will also be available to sign autographs afterwards. Before the event there will be a question and answer session open to the press that will begin promptly at 4:00p.m.
As part of the event, Minneapolis residents will have the opportunity to register for free in-home sleep testing and free sleep apnea treatments. In addition to the free sleep testing offerings at the event, David Gergen, President of Gergen's Orthodontic Lab, will be offering 20 free oral sleep appliances after testing has been completed.
David Gergen is helping to save lives. He is on a campaign with the NFL greats to help save lives in each community that they hit. Gergen continues to refer patients to dentists nationally. One local dentist, Dr. Michael Roscher, DDS, Newport, MN, treated former NFL Viking Stu Voigt for sleep apnea. Gergen who referred Voigt to Dr. Roscher also instructed Roscher to impress for a sleep herbst and overnight it to his lab in Phoenix even before Roscher did the sleep test. Gergen had been talking with Stu Voigt's wife and seeing Voigt's neck size he knew Voigt was apneic and must get an appliance immediately. "Voigt fell asleep in the dental chair while the oral appliance was being administered," said Roscher.
Stu Voigt said, "My oral appliance is awesome. After the third night, I didn't even realize I was wearing it. I wish oral appliance therapy was offered to me when I was originally diagnosed with sleep apnea because I feel so much better and I'm no longer tired anymore."
Stu had a sleep study several years ago and had been treated with CPAP therapy, but was unable to tolerate the CPAP mask. Over the years, his apnea worsened. At that time, Stu's sleep study showed an oxygen de-saturation as low as 70% while sleeping. Board certified sleep physician, Dr. Rodolfo Martinez Ferrate, MD, said, "Stu Voigt was a dead man walking before he was successfully treated for sleep apnea. It is a good thing David Gergen made that call. It could have been the difference between life and death. This NFL awareness campaign is really helping people."
Gergen has also referred Carl Eller, Chuck Foreman, and Bob Lurtsema to another local dentist, Patti Froeber, DDS, Minneapolis, MN, to be treated for sleep apnea as well. The public is welcome to come to the event to learn more about sleep apnea and the treatment that Gergen's Orthodontic Lab and the dentists he works with can help patients on a national level.
About Gergen's Orthodontic Lab
Family owned and operated, Gergen's Orthodontic Lab has been in business since 1984 and it has grown into one of the most respected labs in the country employing over 50 people. David Gergen, President, has been a nationally respected dental lab technician for over 25 years. He received the award for "The Finest Orthodontic Technician in the Country" given by Columbus Dental in 1986. He also received in 2012 a lifetime achievement award by the Gelb Academy as
America's Greatest Orthodontic Technician of all time. He has worked for some of the pioneers in the orthodontic and sleep dentistry fields. He was the personal technician for the likes of Dr. Robert Ricketts, Dr. Ronald Roth, Dr. A. Paul Serrano, Dr. Clark Jones, Dr. Harold Gelb, Dr. Joseph R. Cohen, Dr Rodney Willey, and Dr. Thiem Pham. One of his proudest achievements is receiving The National Leadership award for Arizona Small Businessman of the Year in 2004.
# # #
http://www.prweb.com/releases/tacklingsleepapnea/nfl-davidgergen/prweb9624833.htm