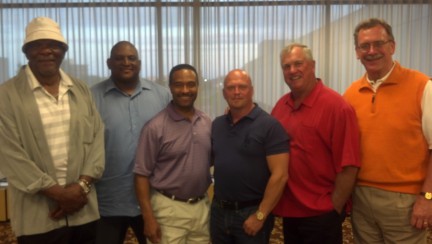 Over the course of your life you get to look back on times of change and innovation. Most of the time, these moments seem fairly normal, and the paradigm shift is often not readily apparent until you have had time to reflect on how things have changed. I'd like to share with you a recent event, and introduce you to the guy that pulled off a game change.
David Gergen's gift is one of managing to push his personal self-interest into the background and concentrate on assembling winning teams.  When David Gergen decided to change the world of sleep medicine, it seemed like something outside the realms of possibility.  I know this because I was there. How would a certified dental lab tech from Arizona manifestly change the sleep industry? David Gergen is arguably one of the best dental technicians in the country, however he is not an academician or industry politician and Gergen's Orthodontic Lab is by no means the largest lab in the country. Gergen presented his first training program in sleep in August 2011 in Sonoma;  In August 2011, Gergen's first training program in sleep was presented to a group of 25 doctors in Sonoma. In a market where there are companies running dental sleep medicine programs every week, each successive Gergen's Orthodontic Lab program has gotten better in one really significant way: the team.
Gergen's Orthodontic Lab's team is achieving a seasoned balance that makes these meetings better. Each educator has his specialty. Each topic is covered thoroughly without overreach that comes from trying to extrapolate data points to gloss over the unknown or unknowable. When David Gergen was Arizona's most successful POP Warner football coach, he learned that individual efforts often do not make the grade, and it is teams that win. The team that Gergen assembled for Minnesota 2012 was composed of giants in their field.
A standout speaker was the legendary Harold Gelb DDS. He talked about optimal jaw position and the Gelb 4/7 position, as discussed in his seminal text on the subject: Clinical Management of Head, Neck and TMJ Pain and Dysfunction. Wayne Halstrom DDS discussed bruxism, his approach to treatment using splint therapy and his new titanium attachment designed to withstand the most extreme mouth forces. I found Dr. Steve Carstensen's nocturnal bruxism review was a comprehensive and an essential primer on the dental sleep disorder. Dr  Francisco Eraso took the time to review the Baby Blue  arch expansion appliance, which came from the mind of David Gergen. He used his 30 years of orthodontic experience to come up with the first pediatric sleep appliance, which I expect to hear a lot about this year after such a well received and thought provoking presentation. A presentation was also made by Dr Rod Willey, who reviewed his successful practice-building program with all the detail contained in his Skip It program.
That was just the meeting, so what was the game changer?
This meeting will be remembered as the first time that retired NFL players used their celebrity to introduce the urgent need for sleep diagnosis and therapy to the general public. Pro Player Health Alliance was created to treat the sleep health needs of retired NFL players while at the same time raising awareness of sleep apnea as a silent killer. Only a team player like David Gergen could have come up with a team of retired players that could pull this off.  Dr. Archie Roberts, cardiologist and retired NFL player, was the keynote speaker and established the much higher incidence of OSA and heart disease in the general population. The key, as in most medical issues, is early detection and asking the right questions.
Carl Eller, Stu Voight, Mike Haynes, Matt Blair, Chuck Foreman and Derrek Kennard were all excellent football players and some have been inducted into the Hall of Fame.
They are all sleep apnea patients who are contributing to the field of sleep medicine and are sharing their experiences with the general public. The results are more diagnostic tests and, hopefully, reversing the trend of undiagnosed sleep apnea.
I was there when the Pro Player Health Alliance was launched. I heard the excitement in the room and look forward to the successful rollout in all of the NFL cities. David Gergen will remain at the center of this program.  He will be building teams, asking the hard questions and doing what he does best. I think the sleep industry will be better for it.
Written by Randy Clare