Sleep Group Solutions, David Gergen and Dr. Steve Marinkovich unite to offer free entry and Home Sleep Tests to attendees.
Tacoma, WA (PRWEB) August 10, 2012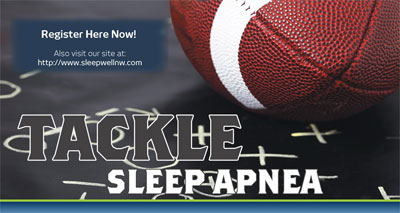 September 26, 2012 at 7:00pm at the LeMay America's Car Museum in Tacoma, WA, a free event will be held to raise awareness of the dangers of sleep apnea and snoring.  NFL Hall of Fame Quarterback Warren Moon, dental icon David Gergen and All Pro DB Nesby Glasgow are among the contributors sharing personal experiences and struggles with Obstructive Sleep Apnea (OSA) to the audience of CPAP users and the undiagnosed. Showing support and contributing in the event are Dental Sleep Medicine experts from Sleep Group Solutions, David Gergen and Dr. Steve Marinkovich from Sleep Well North West.
Why NFL members and athletes to raise awareness of sleep apnea?  Over 60% of the NFL  suffer from Obstructive Sleep Apnea.  A Scripps Howard News Service study stated heavy athletes are more than twice as likely to die before their 50th birthday than their slimmer teammates. Reggie White's passing, Percy Harvins' treatment, and the death of Derek Kennards' brother Donald in 2009 has inspired many athletes to step up and speak about the severity of sleep apnea.  "The Tackle Sleep Apnea campaign has created quite a buzz with the retired NFL guys.  I am looking forward to lending a hand to this campaign to boost the awareness of the dangers of sleep apnea," says Warren Moon former NFL superstar and Hall of Fame member. Warren Moon and Nesby Glasgow will be available after the event for autographs and pictures.
Event supporter, Sleep Group Solutions is a well known name in dental sleep medicine and teaches dentists, such as Dr. Steve Marinkovich, a general dentist in Tacoma, Washington, how to screen and treat patients for snoring and sleep apnea. "As a dentist I have helped many people with their oral conditions, making them healthier.  I have never had such an impact on patients, as I have since I started treating Sleep Disordered Breathing problems," says Dr. Marinkovich.
David Gergen, President of Pro Player Health Alliance and Rani Ben-David, Vice President of PPHA have started this nation wide campaign with former NFL heros to integrate education and sleep apnea awareness in a fun and memorable way. Some attendees will receive free home sleep tests to determine if sleep apnea is present.
Event Specifics:
Date:  September 26, 2012.
Time:  7:00pm (open to public and press)
Location:  LeMay America's Car Museum. 2702 East D Street, Tacoma, WA
Special NFL Attendees:  Warren Moon, Nesby Glasgow
RSVP:  Please RSVP at SleepWellNW.com or call 253-474-3223
MEDIA INQUIRES:  DanaSheets(at)yahoo(dot)com
About Steve Marinkovich, DDS, ABDSM
Dr. Steve Marinkovich, was born and raised in Tacoma. It is a fact that he truly decided to make dentistry his profession at the age of six; just ask any of his patients that knew him then!
Dr. Marinkovich graduated from the University of Washington Dental School and continues his dental education every year. He keeps up with all of the latest treatments in dentistry to better serve his patients. He presently serves part time on the clinical faculty at the University of Washington School of Dentistry in Restorative Dentistry, and is credentialed by the Certification Board of the Academy of Dental Sleep Medicine. There are not many dentists with this distinction.
Steve is also one of the very few dentists in the area that has been honored with the prestigious fellowship in both the American and International Colleges of Dentists. Membership to these organizations are gained through nomination by one's peers, based on professional integrity, caliber of treatment, and outstanding service to the community and the profession.
Read more: http://www.sfgate.com/business/prweb/article/NFL-Hall-of-Famer-Warren-Moon-and-Nesby-Glasgow-3778796.php#ixzz23G7TDueY