The national "Tackle Sleep Apnea" campaign with Former NFL Legends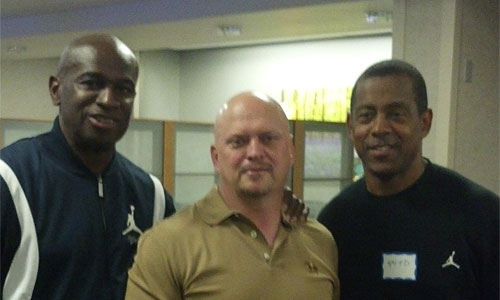 Today, Pro Player Health Alliance (PPHA) announced that they have more support from the public to Tackle Sleep Apnea nationally. After a private sleep apnea and cardiovascular screening for NFL Legends took place this past Saturday, December 15, 2012, the Veterans of Foreign Wars (VFW), Greater Phoenix Swing Dance Club, and Phoenix Elks Club jumped on board with PPHA to come out and support the cause.
PPHA has teamed up with Dr. Allan Bernstein, DDS., Dr. Roger Briggs, DDS., and Dr. Archie Roberts, MD., The Living Heart Foundation (LHF), and Former NFL Legends, to take part in private sleep apnea and cardiovascular disease screenings for NFL Legends. The event was held privately at The Mayo Clinic in Scottsdale, AZ and there are many more to come.
The American Legion has been a long-time supporter of PPHA and truly comes out to support in awareness.
This event is part of the national "Tackle Sleep Apnea" campaign and will be yet another stop, in a series of stops across the nation. With over 12 million Americans diagnosed with obstructive sleep apnea (OSA) and an estimate of millions more whom have not yet been diagnosed, the treatment of OSA is growing exponentially. OSA is a syndrome caused by obstruction of the upper airway. The Phoenix Chapter of the NFL Players Association (NFLPA) has been a huge help in the PPHA "Tackling Sleep Apnea" campaign. In fact, Tony Dorsett flew into Phoenix on December 15th to lend his hand with the screening because he believes in the PPHA and the difference they are making nationally.
At the event, each of the 25 NFL players had the following completed by the LHF and the PPHA:
    Consent form
    Health questionnaire
    Blood draw for cardiovascular (CV) risk panel
    Body composition
    Blood pressure and pulse analysis
    Electrocardiogram
    Echocardiogram
    Carotid ultrasound
    Doctor's consult
    Results letter sent in mail to individual
    Follow-up discussion, if requested
"We are thrilled to help fill the seats at your next event in January," said George Pavlatos, President of the Swing Dance Club. "It is an extremely important community event that we are behind and are happy to help support."
The next OSA awareness event will be held at The Scottsdale Plaza Resort in Scottsdale, AZ on January 10, 2013 and is open to the public. Typical events range in size of 100 to 300 people, so it is important to register early. As part of the event, former NFL legends Roy Green, Derek Kennard, Dave Krieg, Mark Walczak, and Ron Wolfley will share their experiences with sleep apnea and treatment. Additionally, NBA Legend Truck Robinson is the first NBA super star to jump on board with PPHA and will be in attendance. In addition, they will be signing autographs and photo opportunities will be available, for anyone in attendance. It is fantastic to see these NFL and NBA Legends give back to the community to increase awareness of sleep apnea in the nation. In addition to the former NFL and NBA Legends that will be in attendance, there will be a surprise guest. The guest is a current Arizona Cardinal superstar. So stay tuned for that announcement coming soon.
"We were fortunate enough to screen 25 former NFL Players for sleep apnea and cardiovascular disease," said David Gergen, President and Co-founder of PPHA. "Results will be sent to each of the players within a week and follow-up for any treatment necessary will also take place."
Additionally, the LHF will be doing free health screenings, blood pressure testing, and BMI testing for Phoenix and Scottsdale firemen and policemen at no cost to the participants.
"I heard about the campaign and wanted to become involved in efforts to get the word out about what sleep apnea can do to you," Walczak said. "I lost my best friend Junior Seau from the effects of this condition and I am trying to spread awareness, to save lives."
To pre-register for the upcoming event, visit: http://www.eventbrite.com/event/4799861515?ref=ecount.
For more information about PPHA or the "Tackle Sleep Apnea" campaign, visit: http://proplayersleep.org.
About Pro Player Health Alliance
The Pro Players Health Alliance (PPHA) is an organization dedicated to helping former NFL players, through providing testing and treatment options for those who suffer from sleep apnea. In addition, the PPHA is dedicated to integrating education and raising sleep apnea awareness, in a fun and memorable way. In addition to the campaign, the PPHA is dedicated to testing and getting people treated who suffer from sleep apnea. The PPHA was created by David Gergen, President of Gergen's Orthodontic Lab, Rani Ben-David, President of Sleep Group Solutions, and Former NFL legends.
About David Gergen
David Gergen, CDT and President of Pro Player Health Alliance, has been a nationally respected dental lab technician for over 25 years. He received the award for "The Finest Orthodontic Technician in the Country" given by Columbus Dental in 1986. He also has been appointed chair of the dental wing of the Sleep and Breathing Academy a national interdisciplinary academy dedicated to sleep training and education with over 60,000 members. David rolled out of bed on September 12, 1981 and had his career "ah ha" moment. He knew he was going to be an orthodontic technician and he knew he was going to help people all over the country to help treat their sleep disorders in partnership with their dentists. He has worked for some of the pioneers in the orthodontic and sleep dentistry fields. He was the personal technician for the likes of Dr. Robert Ricketts, Dr. Ronald Roth, Dr. A. Paul Serrano, Dr. Clark Jones, Dr. Harold Gelb, Dr. Joseph R. Cohen, Dr. Rodney Willey, Dr. Allan Bernstein, and Dr. Thien Pham. One of his proudest achievements is receiving The National Leadership award for Arizona Small Businessman of the Year in 2004.
About Dr. Allan Bernstein
Allan K. Bernstein, D.D.S., focuses his practice exclusively on orofacial pain disorders (TMD), and obstructive sleep apnea/snoring. He has been in practice in the Phoenix Valley since 1978. Dr. Bernstein received his dental training at McGill University in Montreal, Canada, and completed his dental internship at Sinai Hospital in Baltimore, MD. He continues to enhance and refine his clinical expertise through ongoing training and professional involvement in TMD, as well as the treatment of snoring and obstructive sleep apnea with the use of oral appliances, an area he expanded his practice to include since 1986. Dr. Bernstein is board certified by the American Board of Orofacial Pain, the Academy of Dental Sleep Medicine, and served as a member of the Academy's Board of Directors.
# # #