The National "Tackle Sleep Apnea" campaign with Former NFL legends are raising awareness on sleep apnea
Today, Pro Player Health Alliance (PPHA) announced that their next public sleep apnea awareness event will be in San Jose, CA. Dr. Victor D. Woodlief, DMD is teaming up with the PPHA, The Living Heart Foundation (LHF), the American Legion and Former NFL Legends, to take part in a sleep apnea and cardiovascular disease awareness event on February 7, 2013 from 7:00pm to 9:00pm that is open to the public at The Club Auto Sport in San Jose, CA. The event is part of the national "Tackle Sleep Apnea" campaign and will be yet another stop, in a series of stops across the nation. As part of the event, former NFL legends Derek Kennard, Lincoln Kennedy, Guy McIntyre, and Mark Walczak will share their experiences with sleep apnea and treatment. In addition, they will be signing autographs and photo opportunities will be available, for anyone in attendance. In addition to the former NFL Legends that will be in attendance, there will be a few more surprise guests. So stay tuned for that announcement coming soon.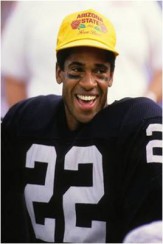 Announced today, Mike Haynes has also joined the awareness campaign. Mike Haynes is considered, by many, to be one of the best cornerbacks ever to play the position. Mike Haynes, a nine-time Pro-Bowl defensive back of the National Football League and member the NFL Hall of Fame, was known for his quickness and range of motion when he played for the New England Patriots and the Los Angeles Raiders. However, he could not maneuver his way around prostate cancer.
"Cancer does not care if you're a Hall of Famer, your zip code or how much money you have," says Haynes, who is quick with a smile. Haynes was surprised to know that if a person is snoring and has other types of 'sleep disordered breathing', as it is known, can deprive the body of enough oxygen for hours at a time. Scientists now believe that having low blood oxygen levels can trigger the development of cancerous tumors by promoting the growth of the vessels that feed them. Scientists say in the future, doctors could help people fight the disease by stopping them from snoring. Researchers in the US looked at cancer rates in more than 1,500 people. In a study of sleep problems that has been going for 22 years, they found those with severe sleep disordered breathing (SDB) were 4.8 times more likely to develop cancer than those who had no such problems. Sleep apnea is often misdiagnosed as Prostate cancer. This is what intrigued Mike Haynes who now serves as spokesperson for theAmerican Urological Association (AUA).
He recently decided to not only raise the issue of undiagnosed sleep apnea, but also to lend his considerable star power to inform and educate fans about the dangers of sleep disorders. PPHA events gather up to 500 people that are diagnosed and undiagnosed with sleep apnea. In attendance of these events are former NFL and NBA players as well as local patients that come to hear stories and testimonials from their gridiron heroes as well as receive an educational message from medical and dental professionals with special training in Sleep Medicine. Gergen was inspired to start the PPHA by his friend Derek Kennard, NFL Lineman and Super Bowl Champion with the Dallas Cowboys. David fabricated an oral appliance for Derek to wear while he sleeps. Kennard has sleep apnea, but is unable to wear his CPAP device because he finds it bulky and uncomfortable. Since receiving the oral appliance Derek has had the energy to exercise again and has lost over 150 lbs. The average NFL linemen today is between 6.0 and 6.8 tall and 300+ pounds often leading to obesity, sleep apnea, and cardiovascular risk factors over 3 times the national average.
A 2005 study by the University of Northern Carolina found that more than 25% of the NFL's players fit the category of Class II obesity. A 2006 survey by Scripps Howard newspapers of the deaths of 3,850 professional pro football players over the last century found that the heaviest players were more than twice as likely as lighter players to have died before their 50th birthdays. A study by the University of Connecticut titled, "Body size and composition of National Football League players," showed that the increase in body mass in players since the 1970's was primarily focused in the offensive and defensive line.
It has been widely reported that Reggie White, a 43-year-old, 300-pound defensive end of the Philadelphia Eagles and the Green Bay Packers died of complications associated with diagnosed, but untreated sleep apnea.
In June, the PPHA held an event in Minneapolis, screening, diagnosing, and then treating 18 NFL Greats. "We are saving lives by holding these awareness events and that is the bottom line," said Gergen.
Tony Dorsett, widely considered to be the most popular Dallas Cowboy player to have played the game was quoted another recent PPHA event in Dallas shortly after the Tacoma event, "I want to let people know how important it is to get treatment and how getting treatment can not only effect your health, but it can save your life."
Dorsett has been treated by the PPHA campaign "Tackle Sleep Apnea" and is such a huge supporter of the national awareness campaign that he will be flying into Phoenix for their next big event in Scottsdale, AZ on January 10, 2013. The Scottsdale event is planned to draw upward of 500 people.
Gergen reports that there are 12 events planned for the next 6 months in various cities around the country.
To pre-register for the upcoming event on January 10 or February 7, 2013, visit:
http://www.eventbrite.com/event/4799861515?ref=ecount 
http://www.eventbrite.com/event/4661298068?ref=ecount
For more information about PPHA or the "Tackle Sleep Apnea" campaign, visit http://proplayersleep.org.
About Dr. Victor D. Woodlief
Dr. Woodlief, a native Californian, returned to the Bay Area after graduating from Tufts University School of Dental Medicine in Boston. In private practice for 21 years, his clinical focus has been TMJ disorders, Pain Management of head, neck and facial structures (craniofacial disorders), Orthodontics (pediatric and adult), Snoring and Sleep Apnea. Since completing his formal education, more than 1800 hours of continuing education have been completed toward TMD therapy, pain management, and orthodontics and sleep disorders.
He believes that patients deserve nothing but the best, and in order to provide that for them, it is important to stay current on the newest, most advanced technology and treatment options. His "one size does not fit all" approach continues to provide his patients with customized and effective treatment plans. This comprehensive approach has earned Dr. Woodlief the respect from both colleagues and patients alike. The deliberate choice to operate with a team of colleagues (MD's, ENT's, Neurologists, Orthopedic Surgeons, Pediatricians, Cranio-sacral or SOT Chiropractors, and Oral Myologists) allows a full spectrum of services.
About Mike Haynes
As a spokesperson for the Know Your Stats About Prostate Cancer® Campaign, Michael Haynes is committed to sharing the message of early prostate cancer detection. Haynes discovered he had prostate cancer during a 2008 screening event conducted by the AUA and supported by the National Football League (NFL). Now a prostate cancer survivor, he speaks on behalf of the Foundation, encouraging men to talk with their doctors about getting tested for this deadly disease. In his third year with the campaign, Haynes remains focused on driving the importance of prostate cancer awareness and education to fans on the local level. Haynes' professional football career began when he was the fifth player selected in the 1976 draft. A first-round draft choice of the New England Patriots, Haynes was voted the NFL defensive rookie of the year. He was selected by his peers to represent the AFC in nine Pro Bowls during his 14-year NFL career with the Patriots (1976-1982) and Los Angeles Raiders (1983-1989) and earned a Super Bowl ring as a member of the 1983 Raiders. Haynes is widely recognized as one of the NFL's greatest defensive backs. He was inducted into the Patriots Hall of Fame in 1994, named to the NFL's 75th Anniversary All-Time Team in 1995 and inducted into the Pro Football Hall of Fame in 1997. Earlier this year, Haynes and his former Raiders teammate, Lester Hayes, were named the best cornerback tandem in NFL history by the NFL Network program "NFL's Top 10."
About Pro Player Health Alliance
The Pro Players Health Alliance (PPHA) is an organization dedicated to helping former NFL players, through providing testing and treatment options for those who suffer from sleep apnea. In addition, the PPHA is dedicated to integrating education and raising sleep apnea awareness, in a fun and memorable way. In addition to the campaign, the PPHA is dedicated to testing and getting people treated who suffer from sleep apnea. The PPHA was created by David Gergen, President of Gergen's Orthodontic Lab, Rani Ben-David, President of Sleep Group Solutions, and Former NFL legends.
About David Gergen
David Gergen, CDT and President of Pro Player Health Alliance, has been a nationally respected dental lab technician for over 25 years. He received the award for "The Finest Orthodontic Technician in the Country" given by Columbus Dental in 1986. He also has been appointed chair of the dental wing of the Sleep and Breathing Academy a national interdisciplinary academy dedicated to sleep training and education with over 60,000 members. David rolled out of bed on September 12, 1981 and had his career "ah ha" moment. He knew he was going to be an orthodontic technician and he knew he was going to help people all over the country to help treat their sleep disorders in partnership with their dentists. He has worked for some of the pioneers in the orthodontic and sleep dentistry fields. One of his proudest achievements is receiving The National Leadership award for Arizona Small Businessman of the Year in 2004.