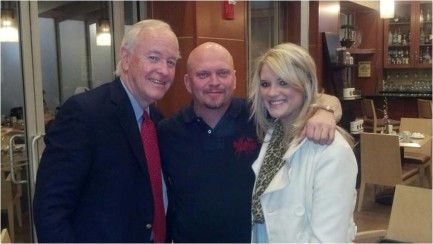 Teaming up with NFL greats isn't anything new for David Gergen as he continues to cut his own path to health improvement for others across the country. In addition to "Tackling Sleep Apnea" with former American football legends by hosting free public events, Gergen continues to partner with the leading organizations in the industry such as the American Sleep and Breathing Academy (ASBA) and Living Heart Foundation's NFL HOPE Program who officially appointed him as the National Sleep Apnea Director. With the HOPE Program's founder Dr. Archie Roberts, they will be working with Mayo Clinic Scottsdale, University of Minnesota, University of Texas (Houston) & George Washington University to run the NFL HOPE study and screen players; four of six facilities that are expected to take part in the screenings and the HOPE study. Dr. Roberts and David Gergen will also be screening players at the Super Bowl Symposium and offering treatment options throughout the playoffs at Malo Clinic in New Jersey.
Gergen says, "My goal, being in the position I'm in, is to maintain overall good health among the players by treating their sleep apnea and positively impacting their weight." By forming an alliance with the NFL HOPE program, Gergen hopes to grow closer to achieving that goal. Because of his efforts with the PPHA and HOPE Program, over 160 former professional athletes have been treated for sleep apnea and hundreds more from the general public have been referred to doctors across the country. The HOPE program, which stands for Heart Obesity Prevention Education, has been endorsed and sponsored by the NFLPA and Covidien.
Andre Collins, Director of Former Player Services of the NFL Players Association said, "The HOPE Program provides former players with a team environment that encourages participants to adopt healthier lifestyle choices. Adverse health conditions due to obesity in former NFL players can be corrected with healthy diet, exercise and weight loss." Following the screenings, former players have the option to join expert-supervised physical fitness and nutrition education "Boot Camps" to help them live healthier lives.
In a recent interview with Gergen he also announced plans for a celebrity golf tournament in Scottsdale, AZ featuring Roy Green, Charles Barkley, Erick Dickerson, Mike Haynes, Marcus Allen, Larry Fitzgerald and several more sports legends that will benefit the ASBA and the HOPE Program, both of which are nonprofit organizations. The tournament date is set for April 10-11 with the location to be determined.
To learn more about the NFL HOPE Program, visit http://www.livingheartfoundation.org/.
To learn more about Pro Player Health Alliance, visit http://www.proplayersleep.org.
About Pro Player Health Alliance
The Pro Players Health Alliance (PPHA) is an organization dedicated to helping former NFL players, through providing testing and treatment options for those who suffer from sleep apnea. In addition, the PPHA is dedicated to integrating education and raising sleep apnea awareness, in a fun and memorable way. In addition to the campaign, the PPHA is dedicated to testing and getting people treated who suffer from sleep apnea. The PPHA was created by David Gergen and Former NFL legends.
About David Gergen
As President of Pro Player Health Alliance and Gergen's Orthodontic Lab he has been a nationally respected dental lab technician for over 25 years. He received the award for "The Finest Orthodontic Technician in the Country" given by Columbus Dental in 1986. He also has been appointed chair of the dental wing of the American Sleep and Breathing Academy, a national interdisciplinary academy dedicated to sleep training and education with over 60,000 members. He has worked for some of the pioneers in the orthodontic and sleep dentistry fields. One of his proudest achievements is receiving The National Leadership award for Arizona Small Businessman of the Year in 2004.