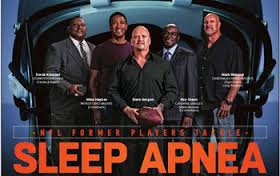 OSA sufferers stop breathing multiple times when they are asleep, resulting in lower night time oxygen levels and poor quality sleep. The loss of oxygen during the night combined with the lack of good sleep can be a dangerous combination. Stroke, high blood pressure, diabetes and heart disease have been linked to OSA.
The message is personal to many of the greats that make up the PPHA team, including Derek Kennard, who played with three teams – the Arizona Cardinals, the New Orleans Saints and the Dallas Cowboys – during his more than 11 years in the NFL.
"The loss of my brother to sleep apnea became a wake-up call for me. I was always tired and looked like it as well and knew I might be at risk. I had a home sleep test and learned that I stopped breathing many times during the night – sometimes for as long as 1 minute and 30 seconds. Treating my sleep apnea has changed my life – it is helping to keep me safe, healthier and living a better quality of life."
The PPHA includes Pro Football Hall of Famers, Eric Dickerson, Mike Haynes and Marcus Allen.
Risk factors, signs and symptoms of sleep apnea may include
    Loud and persistent snoring most nights
    Snorting, choking or gasping during sleep, frequently noted by bed partners.
    Daytime fatigue
    Excessive daytime sleepiness
    Shirt collar size over 17"
    Being overweight
To tackle these serious health issues and encourage others to make healthy sleep choices, the PPHA is committed to increasing awareness about sleep disordered breathing and offer guidance and recommended solutions that can lead to effective treatment.
Talking with a physician about potential sleep apnea or treating snoring is critical. OSA sufferers, especially middle-aged adults and men, have a 46% increased risk of death, from any cause, compared to those without the sleep condition, says the National Institute of Health. As many as 85% of people with OSA remain undiagnosed.
While snoring is typically a sign of OSA, not everyone that snores has OSA. Snoring affects about 45% of Americans on any given night, and according to Henry Ford Hospital "snoring is a bigger risk factor for stroke and heart attack than smoking, being overweight, or high cholesterol."
PPHA members have experienced the best diagnostic methods, and have tested and utilized various solutions for sleep apnea and snoring. Now they are sharing this education and experience. The PPHA team, including President David Gergen, have selected ZQuiet as the recommended solution: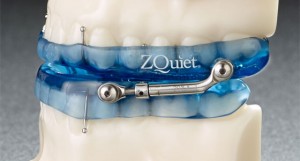 "We recommend ZQuiet brand solutions for treating sleep disordered breathing because ZQuiet makes simple solutions that are readily available – including solutions for chronic snoring and for obstructive sleep apnea. Most people are unaware that chronic snoring is more than a social nuisance. Sleep quality is often diminished for the snorer and family members contributing to sleepiness, irritability and poor health for everyone under the same roof."
The ZQuiet anti-snoring mouthpieces are simple and comfortable, especially for former or current athletes accustomed to wearing a mouth guard. The ZQuiet appliances are similar to the mouth guards used to protect players' mouths during games, and are designed by health professionals to treat sleep disordered breathing.
"The ZQuiet devices are so simple to use, and feel the same as putting in a mouthguard. They are easy to obtain and affordable, including a simple snoring treatment that can be ordered online, as well as a range of custom treatment options available from dentists and physicians. It's time to try ZQuiet and get the sleep you deserve," says Marcus Allen.
ABOUT PRO PLAYER HEALTH ALLIANCE
Pro Player Health Alliance (PPHA) is an organization dedicated to helping former NFL players, providing testing and treatment options for those who suffer from sleep apnea. Since launching in April 2012, over 260 players have been treated through PPHA's "Tackle Sleep Apnea" campaign. The PPHA works closely with the American Sleep and Breathing Academy and is dedicated to improving health and wellness through sleep education and advocacy.
ABOUT ZQUIET
Sleeping Well, LLC (ZQuiet's parent company) was founded in 2008 by a husband and wife seeking a solution for the chronic snoring problem that was literally ruining their marriage and impacting their health. They brought to market ZQuiet, an anti-snoring mouthpiece, that simplifies the treatment experience for sleep disordered breathing, and delivers an innovative, inexpensive and immediate treatment for snoring as a starting point for the professional continuum of care for all forms of sleep disordered breathing. ZQuiet offers a full suite of oral appliances to treat snoring and obstructive sleep apnea.
For additional information contact David Gergen 602-478-9713
SOURCE Pro Player Health Alliance
Related Links
http://www.proplayersleep.org 
http://www.zquietprofessional.com