Many dentists start out on an arduous road with road blocks everywhere in dental sleep medicine. It doesn't have to be like that. When you sign up for vendor sponsored courses they try to sell you products which are often old, obsolete and not beneficial at all to the success of the practice. How many of you have purchased vendor equipment that is sitting in your office which you have never even taken out of the box? We've all been there. This is why the ASBA does not allow vendor sponsored training at the intro to sleep courses. ASBA mentors are the top dentists in the country in treating sleep and have experienced all of the pot holes and road blocks so you don't have to.
David Gergen and Dr. Rod Willey
David Gergen and Dr. Rod Willey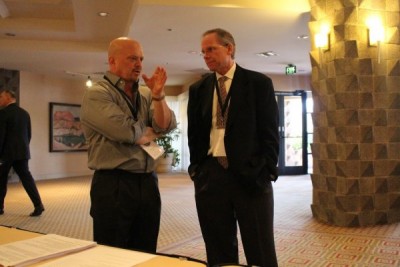 The next Intro to Sleep 101 course will be a two day event held in Dallas, TX on August 19-20. While all doctors and their staff members will benefit from the information provided, the agenda is going to focus on getting to the basics. It will be an in depth course on introduction to dental sleep medicine for anyone interested in treating OSA in their practice and also for the doctor who has a number of cases under their belt, but has trouble getting paid or successful results.
David Gergen, Executive Director of the ASBA and dental icon, designed the course to be taught by dentists who have formed their own business models for success. Gergen spearheaded the largest sleep apnea awareness event in the world which attracted 3,000 attendees in January 2016. After the event, Dr. Neal Seltzer of Long Island, NY stated, "David Gergen has done more for dental sleep medicine in the last four years than the entire industry has done in the last 30 combined." Through the last four years, Gergen has brought NFL legends to the ASBA team that have become advocates to not only dental sleep medicine, but to the members of the academy as well. ASBA members have partnered with Pro Player Health Alliance and NFL stars such as Eric Dickerson, Tony Dorsett, Michael Irvin, Roy Green, Ed Too Tall Jones and Derek Kennard. It is almost certain that Gergen will be bringing iconic Cowboys to this event for autographs, pictures and possible marketing opportunities.
The keynote speaker will be Dr. Rod Willey, Diplomate of the ASBA and the largest standalone dental sleep practice in the country with over 60 cases/month and holds the record for 106 successfully treated cases in a single month. As a master of navigating the medical world, he will be teaching you techniques that will put you in network with insurance companies so you can spend your time and energy giving your patients a better quality of life instead of losing it on back end work. Dr. Stacey Layman- also a Diplomate of the ASBA- a proven winner in dental sleep medicine practicing in the beautiful Arrowhead Lakes Community of Arizona and Owner of Go Go Billing, will enlighten guests on the secrets to billing in office for oral appliance therapy. Additional speakers will spotlight staff training, things they wish they knew before treating sleep apnea and how to be more involved in the community. This course will give you an easy-to-follow cook book for success in dental sleep medicine.
Don't let the amateurs teach you bad techniques. Learn from the experts who have years and thousands of cases behind them. Not only will you receive a wealth of information, attendees will be granted 16 CES and a membership with the ASBA. Sign up for Intro to Sleep 101 to receive instant access to the ASBA's vast library of sleep articles, journals and papers. In addition, You will also receive Breathless, the official weekly newsletter of the ASBA.
To learn more about the American Sleep and Breathing Academy go to:
Americansleepandbreathingacademy.com
Event Details
Date:
August 19-20, 2016
Location:
Cooper Hotel and Conference Center
12230 Preston Road
Dallas, TX 75230
Any questions please call 602-478-9713 or direct them via email to info@myasba.com